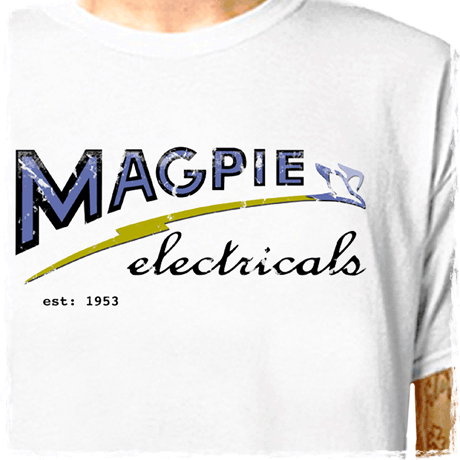 ---
Doctor Who - Magpie Electricals
In October 1963, The Doctor, (in his original incarnation), visited Magpie Electricals and attempted to buy components to repair his damaged TARDIS (Hunters of Earth).
Many years later, in his tenth incarnation, and 10 years earlier in 1953, (this time travel business can get very tricky), The Doctor faced the Wire who was forcing Mr Magpie to sell TV sets cheaply so that she could "take people's essences" and get a physical body (The Idiot's Lantern). Although Magpie himself was killed by the Wire, Magpie Electricals survived the loss of its proprietor and continued to prosper.
In 2007 the Magpie Electricals website briefly appeared on a mobile phone being flicked through by The Doctor (The Runaway Bride).
In the following year Martha Jones' Magpie brand television was booby trapped by The Master (The Sound of Drums), while in the Christmas of that year Wilfred Mott was watching a portable Magpie branded television set as he sold newspapers on the streets of London on Christmas Eve (Voyage of the Damned).
River Song's scanner was manufactured by Magpie Electricals (Day of the Moon) and, in the reconstructed TARDIS Console Room (The Eleventh Hour) the monitor, typewriter, keyboard and a miscellaneous control by the mustard dispenser all had Magpie Electricals brands on them, as did a power control device labelled Type V 310-A (Vincent and the Doctor).
In 1138 the Twelfth Doctor, while standing on a tank in a medieval castle (The Magician's Apprentice) and later while on the TARDIS (Before the Flood) played his electric guitar through a Magpie Electronics amplifier.
A Magpie Electricals shop window featured TV sets carrying The Doctors broadcast for The Monks (The Lie of The Land) in 2017
Sarah Jane Smith had a Magpie Electricals branded computer (The Mark of the Berserker), Torchwood owned an old Magpie television (The Undertaker's Gift) and Magpie Electricals was still a household name in the 33rd Century where it's continued presence was still to be seen in evidence aboard the Starship UK (The Beast Below).
Shirt Sizes
Measurements are

armpit to armpit

across the chest.
The absolute best way to measure your shirt is to dig out your favourite most comfortable T-Shirt ever, lay it flat on a table, and measure armpit to armpit. That way you get the most comfortable fit for you.
Returns
Made To Order:
We want you to be really chuffed with your purchase.
To avoid disappointment always check your measurements against our size chart (armpit to armpit) to ensure a comfortable fit.
But Hey - mistakes happen, and if, in spite of all precautions, you do make an incorrect sizing choice, just return your shirt to us within 14 days of receipt, unworn and with tags attached, for a full refund of the purchase price or a replacement shirt. No quibbles!
(* does not apply to personalised printed shirts)
Heaven forbid but if we make a right pigs ear of your order please get in touch with us straight away, and we'll arrange for a replacement along with a grovelling apology.
Afterwards the drone responsible for the error will have their diodes removed and their conducters short-circuited (again!).
You don't mess with the Carrot.
Postage / Shipping
UK:
FREE SHIPPING
Europe:
£3.00
(
per 1-2 shirts)
USA / World:
£5.00
(
per 1-2 shirts)
Dispatch Time:
Because your shirt will be printed to order we ask for a 5 day working window before dispatch. We aim to be a lot quicker, (usually the next working day), but this gives us a bit of leaway if things don't go quite to plan.

Customise
We can remove, tweak or replace text, add personalisation, change the size and position of images... print one of your own designs, or help design t-shirts for an event... Stag/Hen Nights, Fun Runs etc.
Here are some 'off-the-peg' ideas to get the ball rolling...
To ask about customising your shirt just email us at tshirts@lazycarrot.co.uk
The Print
Printing:
is done by Thermal Press.
The print does not have a raised plasticky texture, the inks are embedded into the fabric of the T-Shirt.
Our shirt prints measure upto 27cmx19cm (approx), depending on the design proportions and the garments printable area.
All of our shirts are Custom Printed To Order.
We don't stock pre-printed shirts.
100% Unofficial
All our designs are created in-house
It should not be assumed that they are approved or authorised by any Third Parties.
If you are looking for Officially Licenced Products, please look at alternative sites - there aren't any here!
LazyCarrot is based in the UK and is wholly and exclusively subject to UK Law and International Law as interpreted by the UK Courts, in respect of which all designs are here presented in good faith.
We understand that queries can arise and we will always reach out to resolve any issues. As such it is our policy to follow the terms of the DMCA, (Digital Millenium Copyright Act), and to respond to any such enquiry promptly and appropriately.

In respect of which please contact us with any concerns at tshirts@lazycarrot.co.uk for our immediate attention.
---